Clopay Glass Garage Doors
As a leading brand in the industry, Clopay has always offered a wide range of overhead doors. The Clopay glass garage doors are among the most recent additions to the manufacturer's product range, possess aluminum frame construction, and glass panels.
Choose Your Clopay Door Panels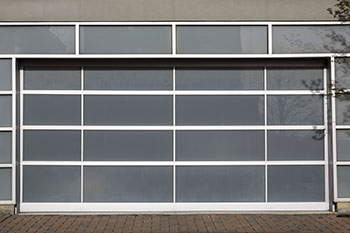 The commercial-grade aluminum frame, which has a thickness of 2.125 inches, holds the panels in place. This metal has natural protection against rust and is resistant to corrosion. It is lightweight and strong as well. Thanks to these properties, the metal frame has a long life expectancy, and requires only basic maintenance in the form of cleaning. There are three types of finishes available for the frame. The anodized finish is the traditional option, powder coating is often chosen for coastal areas with higher levels of salt in the air, and patented Ultra-Grain paint finish looks like stained natural woodgrain. There are eight finish color options ranging from white and black to bronze and dark cherry.
The tempered glass panels make these Clopay doors quite different from the traditional wood and steel units due to their high aesthetic appeal, modernity, and elegance. Since light streams through the panels, the door changes its look constantly during the day. The same applies to the garage setting as well. As a material, glass is naturally resistant to temperature fluctuations, moisture, and sunlight. It has natural resistance to scratching, durably strong as well, but at the same time is prone to breakage when a great amount of force is applied to it. This material does not have natural insulating properties. However, the manufacturer offers homeowners the opportunity to select insulated glass for higher energy efficiency.
There are six panel finish options based on the degree of light transmission which is provided.